Welcome to My Bikes web site!

Current motorcycles include a 2000 Yamaha YZF R1, a 1987 Yamaha FZR 1000, a 2002 Honda XR400, and two 2002 Honda XR50s.

On this home page, the "doorway" to my site, I'll tell you just a bit about myself. I began riding in 1981, on a Yamaha XS 400. I've owned the FZR since 1987 when I purchased it new. It is basically stock except for a K&N air filter, jetting, and tires. The R1 was purchased new out of the crate on 9-01-01. It was initially left in essentially stock condition, with the exceptions of the Scotts steering damper, the Intuitive frame/bar-end/and clutch sliders, the "Dremel/Stryker Cast Cutter" fender eliminator, Pitbill 6 mm swing arm spools, and a Tankslapper clear tank protector kit (almost completely invisible). Since then, I completed the installation and programming of a Datatool DiGi digital gear indicator, a BMW electric outlet was wired in to facilitate periodic connection to Battery Tender, a BlackRobotics Yellow Box electronic speedometer recalibrator was installed and programmed for -5% error correction (necessitating recalibration of the DiGi gear indicator), and a pair of Pro Grip gel grips were installed in lieu of the stock hard grips. The next round of modifications includes the replacement of the stock front fender with a Sebimoto carbon/kevlar fender, alteration of the stock undertray and fitment of a Dussault Undertail complete with Libertek Diamond Light LED brakelights and Flux LED rear turn signals, and removal of the stock front turn signals which were replaced with Dussault Two Color flush mounts. Most recently, the stock rear suspension link, or "dogbone", was removed and an ERP billet aluminum link was installed to improve turn-in, and the stock front brake fluid was replaced with Motul RBF600. Shortly thereafter, the stock Yamaha R1 air cleaner was replaced with an AFE high performance air filter.



What's New?

Here I might add an entry whenever I make an update to my web site. Where appropriate, I may include a link to the change. For now:

10-28-01: This site was started. The R1 is still essentially brand new, and only has 1173 miles on the clock. It's been ridden on the Angeles Crest Highway, and around the Kern Valley/Kern River/Lake Isabella/Johnsondale area.

11-03-04: I purchased a new bike, a 2002 Honda XR400R dirt bike. This is a very simple bike, being a 4 stroke air-cooled thumper, with good power, and a wide torque band.

11-04-01: Track day at Streets of Willow Raceway with California Superbike School. This is a fun racetrack, but unfortunately, it rained almost the entire day, with the exception of the last track session. I rented one of California Suberbike Schools 2000 Kawasaki ZX-6sand rode it at Streets of Willow.

11-11-01: I finished the Datatool DiGi elctronic gear indicator installation and programming.

12-22-01: Purchased two new 2001 Honda XR50s for the boys, ages 5 and 6 1/2.

12-25-01: The boys love the new bikes and rode them for the first time. Less than two months ago, their 10" and 12" wheel bicycles still had training wheels on them, which were removed on 11-03-01. Now they are riding dirt bikes, and learning amazingly fast. Pictures to follow soon.

12-31-01: I installed a Yellow Box from BlackRobotics. This device is used to correct the inherant factory speedometer error. The DiGi electronic gear indicator will now need to be reprogrammed as it relies on the ratio of speedo pulses to tach pulses in order to register the correct gear, and this ratio is altered when speedometer pulse correction is programmed into the Yellow Box.

01-29-02: Installed a Sebimoto carbon/kevlar front fender.

02-09-02: Installed a Dussault Undertail with Libertec Diamond Light LED brake lights, LED turn signals, and a Libertec LED licence plate light. I slightly modified the installation of the undertail by using machine screws with small washers and nuts to attach the upper seat fairing mount instead of the small push-pin plastic fasteners that are installed at the factory. Also, four extra seat fairing support points (two on each side) are being used to support the rear seat cowl and tail fairing, which were fashioned out of carriage bolts, washers, nuts, and vinyl cushions.

02-10-02: The two color Dussault flushmount turn signals were installed today, as well as a Tridon HD-12 relay flasher to slow down the flashing rate.

03-23-02: Nothing fancy. Oil and filter change, using Amsoil 20W-50 Synthetic motorcycle oil, odometer reading at 3244.

03-24-02: Installed a new rear suspension link from ERP. This link is CNC machined from billet 7075-T6 aluminum, the strongest available aluminum, and raises the rear ride height approximately 15mm, reducing rake 0.6 degrees and reducing trail 3.6mm. This modification has greatly improved the R1's already excellent handling. Much less inside bar pressure is necessary for turning the bike in. It will flick side to side now like a much smaller bike, and both tires have a well planted feel. Mid-turn steering corrections are now considerably easier to make and are more precise.

Also, the stock front brake fluid was completely drained, and replaced with Motul RBF600 racing brake fluid. The next modification that I am planning on is replacement of the stock front brake hoses with Stainless Steel brake lines.

03-29-02: At 3498 miles on the odometer, the stock air cleaner was removed and replaced with an Advanced Flow Engineering, Inc air filter, which flows considerably more air than a stock filter, and increases the R1 peak HP by 2, as tested on the dyno, without any jetting changes.

06-12-02: Installed Factory Pro 59mm velocity stacks for a 1.5-3 HP increase from 8000 RPM to 10,000 RPM.


6-15-02: Install left and right Factory Pro Billet engine case covers, oil and filter change with Amsoil 10/40 and a quart of 20/50 Synthetic mc oil, AP racing dual bore master cylinder, Goodridge stainless steel braided front brake lines, Motul RBF600 DOT 4 brake fluid in front lines/reservoirs. Prior to this, I have a custom 6061 Al bracket of my design fabricated which I installed on the day I picked it up, as well as an additional stock front brake fluid reservoir.

11-17-02: fabricate and install an aluminum bracket, and install XT Racing Ultra Lap lap timer onto the bracket.

11-28-02: Removed the stock tank, bodywork, and bent fairing bracket, and installed a Graves fairing bracket.

12-10/11-02: Drilled and installed the Sharkskinz upper and tail section on the R1 in preparation for the 12-11-02 Streets of Willow track day with MTC.

12-11-02: Removed stock forks and installed a set of 2001 forks that I obtained and recently sent to Lindemann Engineering for rebuilding, including new seals, .95 weight springs, 5wt oil at 80mm, and titanium nitride coating. The fork swap was done trackside at Willow Springs International Raceway. Unfortunately, it rained most of that day, limiting the on-track testing I was able to accomplish. All settings were left as they were received from Lindemann, and the fork tubes were set at 8mm raised in the triple clamps (down from a pervious 11mm)

1-10-03: Installed Zero Gravity double bubble on the R1 at 6490 miles.

2-15-03: Drilled and installed Sharkskinz lowers with Dzus fasteners. Installed new Tankslapper static center tank panel and a new Tankslapper 3M left side tank panel. Installed a narrow Tankslapper static center tank protector on the front of the Sharkskinz lower behind the front tire.

3-16-03: Removed the stock shock and ERP rear suspension link, and installed Graves suspension link and Penske 8987 shock with 475 spring. Rear ride height was first returned to stock specs. Low Speed compression at 10 clicks out from full in. High speed compression at 10 to clicks out from full in. Rebound at 20 clicks out from full in.


03-22-03: Installed Graves sharkguard.




The Wrecking Crew



Datatool Digi Digital Gear Indicator



DiGi Gear Indicator Face Plate Animation



Yellow Box Electronic Speedo Recalibrator



Sebimoto Carbon/Kevlar Front Fender



Dusault Undertail with Libertek and Flux LEDs



Dussault Two-Color Flush Mount Turn Indicator



Amsoil 20W-50 High Performance Synthetic Oil



ERP Billet suspension link



Motul RBF600 Racing Brake Fluid



Advanced Flow Engineering R1 air filter
Turn 4 at Willow Springs International Raceway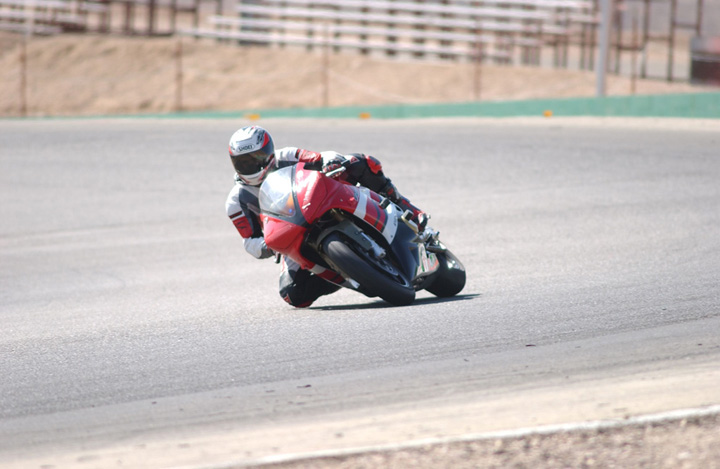 The picture above was taken during a track day at WSIR (big track) turn 4 on 10-29-02. I had just mounted a set of Pirelli Dragon Slicks, supersoft front, soft rear, with 31psi (cold) front, 29psi (cold) rear.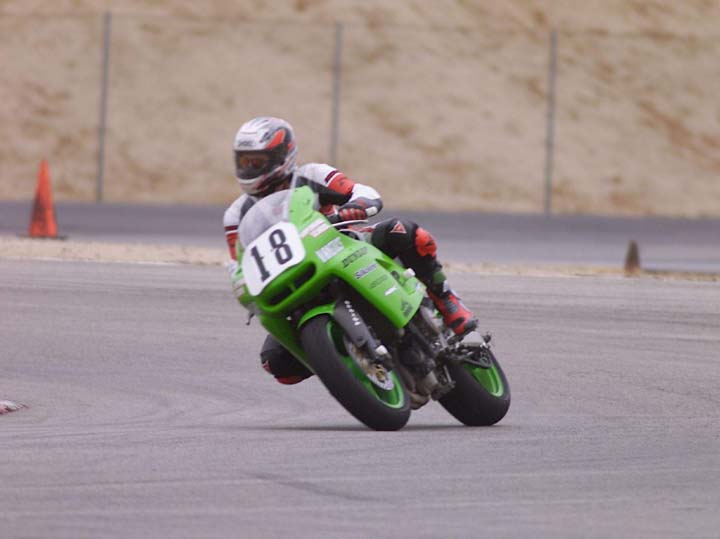 Above is a picture of me at Streets of Willow Raceway on 11-04-01, riding a 2000 Kawasaki ZX-6 that I rented for the day from California Suberbike School. In this picture, I am exiting turn 13, and then pointing the bike down the straight. This picture was taken during my first time ever riding on a racetrack. The weather was wet and cool, adversely affecting tire grip.

Subsequent to the above picture, I have attended Level II at California Superbike School, again at Streets of Willow Raceway, on 03-30-02. Below is a picture taken that day.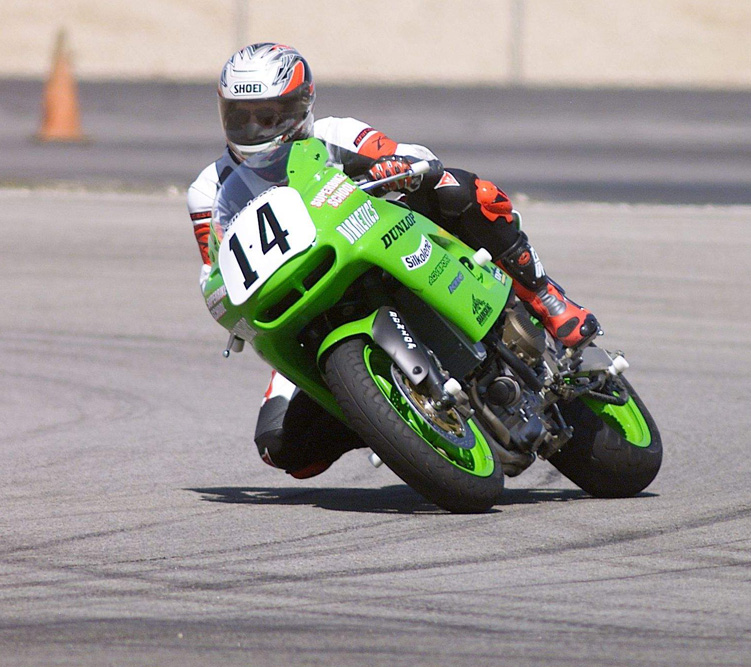 The above picture was taken on 03-30-02 at Streets Of Willow Raceway, while exiting the last sharp right hand turn and entering the front straight, the same turn as in the previous picture. This was during Level II at the California Superbike School, on an early track session. The weather was hot and sunny, at least 87 degrees. This is in contrast to my Level I course, which was completed on 11-04-01, when it rained essentially the entire day. My 03-30-02 lap times, as expected with a hot day and a dry track, were considerably improved as compared to 11-04-01. In the later track sessions for 03-30-02 , I improved my times even further, with quicker turn ins, faster turn entry speeds, higher top speeds, and greater lean angles, scuffing the knee sliders.

As can be seen, I again used one of CSS's 2001 Kawasaki ZX-6Rs, which are now 2003 636cc models. I eventually plan on taking my own bike onto the track in the future, should I take any more CSS schools.

I rode at Streets of Willow Raceway on my R1 as part of an open track day with ccriderlosangles.com on 4-23-02, and again on 5-23-02 as well as 6-26-02. Pictures to follow. I ran BT010 tires for all of the 4-23-02 sessions, and these were a noted improvement over the stock D207s.

I rode at the big track at Willow Springs International Raceway on my R1 as part of an open track day with Fastrack Riders on 5-17-02. Again, the 010s were used for all sessions.

Since switching to the 010s, I have subsequently mounted and run Michelin Pilot Race S2 front and H2 rear, and Dunlop 208GPs, Pirelli Dragon slicks, and Pirelli Supercorsas both in SC1 front and SC2 190/55 rear.

As of November, 2002, the R1 has subsequently been converted into a track only bike, including Sharkskinz bodywork, and a Graves fairing bracket. Further modifications followed, including a Graves rear suspension linkage, Lindemann reworked front forks, Penske 8987 rear shock, Muzzy 5 lb full titanium exhaust, Ivan's needles and air box mod, and FloCommanders on both the main air circuits and the pilot air circuits.
Unknown Gem Type: tlx.bravenet.counter
Last edited on 11-01-03